Edinburgh Guild of Weavers, Spinners and Dyers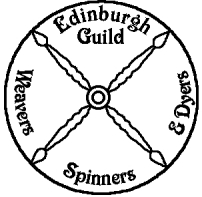 Guild News
MAY MEETING
CORNERS AND TALK. (A corner is an informal, short skillsharing session.) 1) 10.40am. Corner: Kitty Johnstone will show how a drop spindle can be made from simple and easily available items. 2) 11.40am. Talk: The Colour Blue from Marilyn Caddell. 3) 1.30pm approx. Corner: Long Draw Spinning with Penny Skett.
Measures to be observed by all those attending:
Leave contact details on the sign in sheet
Be aware of the concerns of others
Consider appropriate social distancing
Wearing a mask is up to individual members
Wear warm clothing
Don't attend if you have any symptoms or have been in contact with someone with symptoms.
Kitchen. You may use the kitchen for hot water and for crockery but we are not yet arranging to provide refreshments at meetings.
NEWSLETTER
Click here for the newsletters archive.